Textile Art Portfolio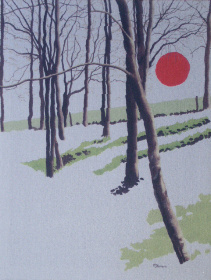 We are pleased to offer another innovative technology into the Michael Revers art portfolios. The image derived from Michael's original painting is printed onto a choice of a selection of different self coloured textile backgrounds to match personal décor schemes. The fabric has a similar texture to that of linen. The panel is intended for use as wall panel decoration.
Michael was commissioned by David Acton, of Acton & Acton Limited, to paint an original which is entitled "Solstice". David Acton has pioneered a new and exciting textile printing process which enables individual high definition printing onto fabric, and he further developed a plain light wood, shaker styled framing system to stretch and hold the fabric taut, known as "Multych". David Acton and his consortium remain leading exponents of this new technology.
In painting the original, Michael had to bear in mind that when printed, the different self coloured textile background colour would be a significant factor in the overall effect. The painting therefore had to be of minimalistic detail, to enable the textile colour to feature prominently.
Pooling the creative instinct of the artist, with the pioneering technology of the textile printing manufacturer, has produced an exciting inclusion in Michael's portfolios.
The image is solely licensed to Acton & Acton Ltd., and is also subject to International copyright law, which is the sole prerogative of the artist Michael Revers © 2006.
Simply choose the Textile Background Colour you prefer to use, and the Textile Art Image will be printed individually, stretched onto the carrier frame, ready to hang, and shipped out to your home, or any address in the UK.
Size 14" x 18" (356 x 457mm)
Price £47.00 + £6.90 postage UK. ( £53.90 total)
Prices for shipping overseas can be quoted on an individual basis.